What new on the NOT LAME shelves??? 04. 23.09 Part Two
Here's some of the newest releases straight from the Boss's desk to your ears!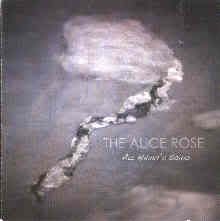 The Alice Rose - ALL HAUNT'S SOUND
Classic power-pop mixed with classic rock stylings that have plenty of hard driving lush melodies, intriguing chord changes and vocal harmonies reminiscent of Squeeze(lead singer JoDee Purkeypile sounds a lot like Glen Tilbrook, no doubt) and Crowded House, two of the strongest influences you will find on "All Haunt`s Sound".
The Alice Rose inhabit the area just outside mainstream pop, applying their eclectic reverence for music of the past to the classic pop formula and kicking out the kind of complex, yet catchy pop like their influences.
Outrageous Cherry - UNIVERSAL MALCONTENTS
Their 9th CD - evocative of artists such as early Roxy Music, Mott the Hoople, Sparks, 10cc, the La`s and Eno, and meanders at times into the improvisational realms charted by Amon Duul 2, Man, and early Soft Machine.
"More than just evocative of the psychedelic rock`s earliest years, this CD brings back the long-forgotten belief that a band could make a complete statement in 36 minutes - 10 songs no less."
-Blurt
"Fans of Sloan, the Apples in Stereo, and pop songs in general, should not sleep on this one."
-I Rock Cleveland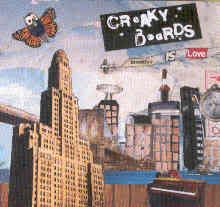 Creaky Boards - BROOKLYN IS LOVE
Many bands on the Not Lame site will have the Beach Boys and Brian Wilson cited as being big influences - so much so that many folks are immune to giving much credence to the fact that a band may truly be not only influenced by Wilson`s artistry but are worthy of our attention. I give to you Creaky Boards who ARE very much influenced by said band and lead songwriter but who bring a new vibrancy to the discussion of influences including a Phil Spector-ish display of production grandiosity.
"8 out of 10. Never boring or feels derivative and is worth many repeat listens. Enjoy it."
-PowerPopAHolic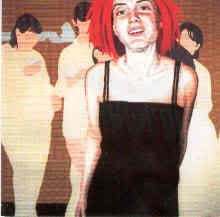 The Rockwells - LITTLE SYMPHONIES FOR KIDS
Produced by Dan Wilson of Semisonic. Part homage to the twinkling pop vistas of the Beach Boys and the sixties, part incisive take on the hopes that push us to the everyday commute, the Silver City pushes Messersmith`s precise lyrics conceptually and expands the scope of his sound.
"Literate, languid but warm acoustic ditties with traces of Elliott Smith."
-Star Tribune
"Messersmith excels at one thing that can`t be taught: Songwriting."
-Time Out Chicago
The Humbugs - ON THE UP SIDE
Their 3rd album. If Elvis Costello and Aimee Mann had a baby, but gave it up for adoption and it was raised by Paul McCartney and Chrissie Hynde, it`s name would be The Humbugs. Engaging and much more than just casually enjoyable. Very Highly Recommended!
"Rich pop sound born of high-quality musicianship and palpable passion. Each melody fit perfectly with the next, but each also had a character and life of its own. A killer pop outfit."
-MNArtists.org
The Honeydogs - 10,000 YEARS
RE-STOCK of 2003 classic! Like YANKEE FOXTROT HOTEL(Wilco) written with early McCartney/Badfinger steroid-ridden melodies. But, of course, music this good is much harder to describe. For one, the Honeydogs got Andy Sturmer to show up and sing on a song. Other guests include Phil Solem (the Rembrandts) & Michael Penn...proper superlatives? The classic "extremely highly recommended` is but a signpost - let`s just say "indispensable".
Jeremy Messersmith - THE SILVER CITY
I knew I was going to dig Soft Targets in the first 20 seconds as lead off track "Something Else" was sounding like a track of the 1993 reunion album from Television. Many of the cool sounds here remind me of a lot of the post-C-86 bands from the U.K. in the mid/late 80s, as well as Bowie-esque glam sounds of 1973. Much of the material here exhibits a strong XTC inspiration, as well. Lots of the tunes here remind me Lloyd Cole & The Commotions, as well.
Brett Mitchell - SMALL HOUSE
Normally, albums written from a singer/songwriter fare does not grab my attention as being something that would connect with Not Lamers, yet SMALL HOUSE from Brett Mitchell kept calling me back to consider in earnest for you all to pay attention.
Most of the fifteen tracks are simply pleasant singer/songwriter stylings but these songs have heart and soul backing them up, which is why I want to give you the opportunity to check out Mitchell.
Light FM - BLACK MAGIC MARKER
Fans of Supergrass, Ozma, the Rentals and first album Weezer, Adventures In Stereo, The Argument, read and listen on! New Wave Power-Pop Done Double-Naughties Style! Fuzzbomb guitars, suckerpunch hooks and overmodulated Moog, rock on!
Light FM is a rare hybrid: plucky indie pop with glaring polish. The songs are a deluge of structured sound.