Mike Baron's got TWO DESERT ISLAND DISCS!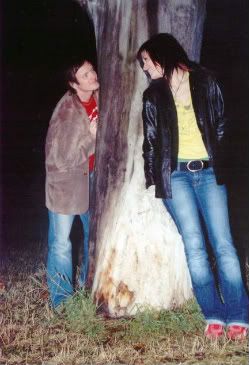 One brain listening to new pop 24/7 couldn't keep up with it all. That's why websites such as this are essential to the discriminating pop consumer. Some records slipped under my radar when they debuted.
Marmalade Souls
from Rainbow Quartz is a desert island record. Michael Klemme, the leader of this trio, writes Southern California sun-drenched bittersweet melodies that are equal to or greater than anything by the Mommas and the Poppas, whose sound they closely resemble. Klemme has an unparalleled gift for the soaring pop vocal, and with sweet-voiced Johanna Klemme taking lead, they do for the M and P what Explorers Club does for the Beach Boys. The opening track "It Won't Be Too Long" wallops you with chords that are both inevitable and surprising. When Souls slip from major to minor on the soaring bridge the song smacks you in the head like a two-handed Bruce Lee ear pop, instantly inscribing itself on your medulla oblongata.
"Daydreams" is daring for its simplicity and breadth. You could swear someone sang it before-but no one has. It's just one killer after another: "Belly Butterfly", "Yeah Yeah!", "Say Goodbye", "Words of Love", and "Good Days" constitute one of the most astonishing runs of killer songs since those damned guys from Liverpool. Marmalade Souls belongs on anybody's list of hundred greatest power pop albums.
Unfortunately, Johanna has dropped out of the band due to a neck injury, but the Souls carry on. We await news of a new recording.
The second record that I critically overlooked was
The Foreign Films
, Bill Majoros'
tour de force
with collaborator Carl Jennings. This two disc set packs an emotional punch like a Rampage Jackson hook to the gut. The second side in particular, whether intended or not, forms a sort of song cycle that once heard cannot be broken up. Once you hear the opening chords of "Sgt. Pepper's Lonely Hearts Club Band" you have to take the whole journey to the final fade-out of "A Day in the Life." At least I do.
Starting with "The Lonely #1," Majoros puts a hammerlock on your heart. By the time you get to the joyous "Polar Opposites," you're hooked like a cigarette-smoking granny parked in front of the slots at Harrah's. "Cinema Light" is a bittersweet masterpiece once heard never forgotten. "Fall of the Year", "Reason or Rhyme" and "Arcade by the Beach" have a mathematical logic and an emotional wallop that rolls over you like a mob of shoppers breaking into a Wal-Mart the day after Thanksgiving.
Majoros wields guitar with samurai precision. His foot-thick fuzztone is particularly poignant on-every song-"Smoke and Mirrors" where he veers into a pitch-perfect John Lennon solo, and "Fall of the Year" wherein his fuzztone consumes all the juices in your brain.