What new on the NOT LAME shelves??? Part One
Here's some of the newest releases straight from the Boss's desk to your ears!
KYLE VINCENT - WHERE ARE YOU
2009 release! It has been some time since we last heard from Kyle Vincent and he sounds renewed and re-energized. Somehow Vincent has found a way to take a large dose of 1972 and make it sound fresher than a 2009 summer day. The production is crystal clear, warm, bright, and sassy on top, with a strong live rhythm section providing the bed. On WHERE ARE YOU, he focuses on what his strengths are in the past with emotional ballads and songs alongside moving melodies all over the place here.
"Kyle Vincent`s WHERE ARE YOU is another in a long string of high-quality, exquisitely sung and impeccably performed releases by the Crown Prince of Soft Pop. If this was the `70s you`d no doubt be hearing these songs all over your AM radio, but today, just be thankful that there`s still a craftsman like Kyle making music from - and for - the heart."
-John M. Borack, GOLDMINE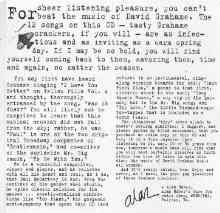 DAVID GRAHAME - TOY PLANE
*** BIG, BIG NEWS! A bonafide power pop classic - no question. TOY PLANE is back for a VERY LIMITED TIME ***
Pay attention. If you have not heard of David Grahame and you are a power pop fan, you just have made a very important discovery. Very. Check out each every one of his releases available here. With TOY PLANE, his first release from 1998, here`s one fact that may clinch this one right off the back for many, hopefully. TOY PLANE was voted as one of Goldmine`s essential 25 Essential Power Pop Albums a few years back AND it is #56 on the list of the "Top 200" Power Pop Albums Of All Time from the SHAKE SOME ACTION: THE ULTIMATE GUIDE TO POWER POP book.
TOY PLANE is available for only a LIMITED TIME - Do Not Wait!!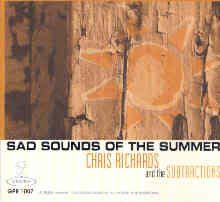 CHRIS RICHARDS - SAD SOUNDS OF THE SUMMER
I *knew* Chris Richards had it in time to deliver a true treasure. With SAD SOUNDS OF THE SUMMER he has. With his band the Subtractions, Richards has found fellow musos to articulate his jangle pop vision. Just jump in head first below and start listening to what`s going on here. If you are a fan of the Windbreakers, Bobby Sutliff and Tim Lee, this kind of music is going to win you over big. Echoes of many Swedish power pop bands we love so much are here, alongside pumping Velvet Crush-like guitar lines, Tommy Keene inspired melodies and the Lolas--and so much more. The guitars ring proudly, the vocals soar heavenward and the hooks rip the line off the fishing rod - it`s pure pop delight.
I mentioned that his previous albums were mansions of happy, sunny and bright pop melodies, chippy guitar sounds and snappy vocals and the same applies here, but in spades. All areas of the creation are upped to a higher level - everything rings stronger, brighter and exhibits quiet confidence that only a veteran can deliver. EXTREMELY Highly Recommended!!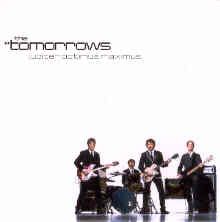 THE TOMORROWS - JUPITER OPTIMUS MAXIMUS
The Roswells are now...the Tomorrows! It has been many, many years since the last Roswells CD came out and the core of the band has been keeping busy and working on their magnum opus with JUPITER OPTIMUS MAXIMUS released under the name the Tomorrows.
"The Tomorrows carry on the psychedelic pop tradition, but streamline things a bit so that the songs are tighter and even more melodic. Fans of Chewy Marble will eat up those great bent notes and striking chord changes! Definitely a force to be reckoned with!"
- David Bash/IPO
THE RAVINES - MANIFESTO OF A BROKEN HEART
Okay, HOW do thousands of power pop fans miss, completely, a release like MANIFESTO OF A BROKEN HEART from the Ravines?! This one was released back in 2005 and 4 years later I have heard of it and will not try and convince you to embrace a band that should have snuggled up into your ears years ago. Take a few minutes to listen over at the link. Perfect Michael Carpenter, the Odds, Greenberry Woods and Gin Blossoms sounds are all over the place, but there is the Rembrandts and Crowded House, which Power PopAHolic accurately points out(as always).

KENNETH ISHAK - SILVER LIGHTNING FROM A BLACK SKY
Okay, you may not know the name of Kenneth Ishak, but some of you should know his band Beezewax. SILVER LIGHTNING FROM A BLACK SKY is a solo album from Ishak and it is absolutely gorgeous, the kind of record we do not hear enough because the ambition it seeks to explore are vistas that scare most artists and labels - yet, when you get right down to it, works beauty like this are the most practical ways to each an audience by being authentic, by being true to ones self. Fans of Jon Brion, Elliot Smith, Charles Jenkins(Ice Cream Hands), the solo works of Jon Auer and Ken Stringfellow, Jeff Tweedy and Ryan Adams -- it is all here. It is all just a joy to listen to, from beginning to end.