Here's the news you've been waiting for...the return of THE SHAZAM!!!
Bruce has got big news for you guys!!!
Hey - Hey -
HEY!
One of the true classic, hot rocking bands in the last 15 years...RETURNS!
Ladies & Gentlemen, won`t you please welcome back...
THE SHAZAM!!!
Recorded at Sage & Sound in Hollywood, METEOR is produced by Mack, who produced Queen, Black Sabbath, Sparks, Billy Squier, and has worked with Electric Light Orchestra, T. Rex, The Sweet, Led Zeppelin, Deep Purple, Elton John and the Rolling Stones, among others. Collaborating with Mack marks a turning point in the band's 15-year career, giving them the opportunity to record an album with the rock legend who worked on the very albums that influenced their music.
And YOU, mighty rawk fan, have the salivating opportunity to sink your teeth into a "whole lotta (Shazam) love" - with a very special Limited, Super Special Edition of METEOR. How long this version will be available is completely unknown. Could be days, a few weeks...but it will be gone before METEOR drops on August 4th.
Where you stand right now, inside the velvet-rope access to the pantheon of rock Gods (this site,
this link
!), you have a chance - a rare, limited chance - to snag this extremely limited version of The Shazam's new CD. For $22, you will own, enjoy and experience the digipak edition of METEOR
and
receive a professionally replicated six-song mini-CD of unreleased, never-before-heard Shazam rarities called HERE'S TO ALL THE MISFITS... AND a 10-song CD-R THE BEST OF THE SHAZAM, which includes one more totally unreleased Shazam track (and, trust me, this is an unheard bonafide Shazam classic!) from the GODSPEED THE SHAZAM sessions. This unheard Shazam gem will tease 'n' tantalize you as an exclusive preview of the upcoming 2010 release of the 2 CD Deluxe reissue of GODSPEED THE SHAZAM, one of the great achievements in real, righteous rock 'n' roll in the last fifteen years, then, now and forever. Amen.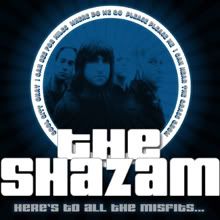 Click Here to view information on the six tracks on
HERE'S TO ALL THE MISFITS...
BOTTOM LINE: This extremely, limited, super special edition of METEOR is strictly limited to 250 copies. Rest assured, you will own a future eBay rarity, much sought after by those late to the party and not tuned into the Not Lame lifestyle. To order this special edition, click here.
***** If you want to simply order just the single CD version of METEOR (and not this special edition on this page),
click here to order single CD version
.*****
Okay, exhale the (just and proper) hype and let's continue to talk about this new Shazam album. The Shazam's garage rock and power-pop roots intertwine to make METEOR the band`s biggest sounding record yet. "So Awesome", the explosive lead-off track, sets the stage for the whole gamut of The Shazam`s modern classic rock: big, Who-sized guitars collide with glittering insanity, melodic hooks, anthemic rockers, sweeping balladry, layers of vocals, resounding drums, guitars, guitars, guitars. With each successive Shazam album, the band has grown from small-screen to wide-screen in terms of production and grandeur. It was the stripped-down English Mod approach of their 1997 debut that gave The Shazam the credit for starting Nashville`s "power-pop" scene. With sophomore release GODSPEED THE SHAZAM came mellotrons, theremins and overblown psychedelia. Dubbed their "experimental" album, REV9 was the bridge from GODSPEED to TOMORROW THE WORLD's full-tilt arena rock. METEOR is everything Shazam all at once.
All songs on the album were written by singer/guitarist Hans Rotenberry, whose soaring vocals were never more inspired than on METEOR`s 11 powerful tracks. Drummer Scott Ballew, with the band since its formation in 1994, is Rotenberry`s creative foil. Ballew`s distinctive thundering beat is the engine that makes The Shazam run. Jeremy Asbrock`s crisp guitar work and newest member Mike Vargo`s melodic bass playing are the perfect complement to Rotenberry`s and Ballew`s exuberance.
Now is the time celebrate an event in the middle of summer and remind yourself of the true, visceral, transcendent joy of what rock `n roll means in 2009 and beyond. METEOR is not just another album to put on your shelf and occasionally play. It will be a precious piece of your life, a sideman, a stately presence, a reminder of how a great piece of music colors the corners of your life with more meaning, more joy and the spirit of that rock flame that burns inside real music fans.

Engage. Enjoy. This one is for you. Right here, right now.