What new on the NOT LAME shelves??? 05. 01.09 Part One
Here's some of the newest releases straight from the Boss's desk to your ears!
Radio City - CLASS OF '77
MAJOR FIND Old School Power-pop Fans!! If you can`t get enough of 70s power-pop bands that were writing songs under the influence of the Beatles, Big Star and Blue Ash and you lament the fact that there`s just not as many of these records as there should have been. Enter Radio City into your life.
"8 out of 10. The playing is exceptional, and energy on tracks like "Tomorrow" & "Play It Like A Man" compares well with Elvis Costello or The Rubinoos, full of Rickenbacker riffs and strong drumming. For fans of Buddy Love, The Wigs, Doug Derek & The Hoax and The Toms it`s a no-brainer."
- Absolute PowerPop Blog
DAVID GRAHAME David Grahame - EMITT ROAD
MORE BIG, BIG NEWS! Another bonafide power-pop classic - no question. 40 copies arrived the other day and only a few are left -
DO NOT WAIT!
If you have noticed, in the last few months, I have made available some of long out of print titles from David Grahame. Yes, for a short time.The latest one to be unearthed is EMITT ROAD. David Grahame is always up to something. What it is, even he`s not sure. Titled to titilate and punish those who continually beat Grahame over the head with comparisons to `dead man walking`. EMITT ROAD gives the listener twelve straight ahead pop tunes and fifteen industrial instrumentals that are so off course from Grahame`s usual, that one might guess Frank Zappa first.
Roger Klug - MORE HELP FOR YOUR NERVES
My declaration: this CD is not only one of 2009's best, it is one of the best indie power-pop CDs of the last four years!
"It is a pop genius at play, at work, at his very best delivering the goods. This disc is an embarrassment of riches clocking in at just under an hour with 17 tracks. None of them are throwaways. Klug's mostly a one-man band with inspiration up to his ears. Too many highlights to mention, a sure contender for Top Ten of the year."
- Bloody Red Baron.
"...combines his love of power pop from the Raspberries to Matthew Sweet with a equal affection for the heavy guitar sound of late 1960s British rock."
- Cincinnati.com
Greg Pope - PETE
YES! Seven new songs from Greg Pope, whose solo debut POPMONSTER dazzled amazed a LOT of you Not Lamers in the last nine months. Rightfully so. It was in my Top 5 for 2008 and here he goes again, blowing me away and surely you, too. There are parts of this album that evoke Cheap Trick first two albums, classic The Shazam, Matthew Sweet and more. PETE starts off into a classic, CLASSIC power-pop treasure called "Fall Into Your Arms". You listen to this now and let it-melodic perfection stun you to play it again. The six songs that follow that one do not let up, either. Grade: Solid A all the way.
The Simple Carnival - GIRLS ALIENS FOOD
HUGE FIND! Gorgeous vocals all over. While the Simple Carnival are certainly influenced by Brian Wilson, this not another blind homage. This is a modern artist refining what inspired him to create and making it his own, updated for the present. STUNNING. Melodically rich, inventive & effortlessly hooky, start to finish. The melodies are simple and summery but OH so sweet in their special swooning affect.
Reminds me a lot of Cherry Twister - soft pop rock with a keen appreciation for early 70s AM radio - influences of Harry Nilsson abound as does the fact that Boller`s vocals remind me of Jeff and John Murphy of Shoes, as do some of the songs.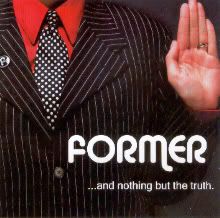 Former - "...AND NOTHING BUT THE TRUTH"
Great hard-rocking power-pop. Much of the material reminds me of Bleu (a whole lot!) and Cheap Trick. Some albums just hit you right between the head and ears right out of the gate, with Song Number One. Former does that, for sure. Lead off track "Lies" will leave you breathless.
"This Nashville band describes their music as "loud pop", and I can`t disagree. High-energy rock/pop that recalls Swirl 360, Steve Bertrand`s Avion, and Rob Bonfligio in spots, Former is truly worth checking out." - Absolute PowerPop Blog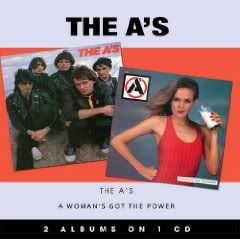 The A's - THE A'S / A WOMAN'S GOT THE POWER
YES!!! Finally out on CD - a long time coming! The debut is one of my all time favorites from the late 70s - time retire my burned from vinyl CD-r!
"4 stars. Their music forged a path that encompassed power pop, punk, and a retro, almost mod, texture. They did it with accessible hooks and catchy numbers."
- AMG
"If anything, The A`s resembles the Boomtown Rats` Tonic for the Troops in the way it combines wit, street savvy and relatively intricate hard-pop arrangements."
- Trouser Press.
Love Bang - THE RULE OF 72'S
JELLYFISH ALERT!!! Love Bang is the unreleased project that Eric Dover of Jellyfish finished before joining J-fish. Jelly fans will notice many elements of the future sounds of Jellyfish`s BELLYBUTTON here but what this reminds me most of is classic, great Crowded House with more balls, more guitar bite. That sound permeates almost all the digital grooves of this album making it not only a keeper beyond its pedigree. At the time this was recorded, there was The Odds, Jellyfish, Crowded House, Michael Penn and The Grays. Add Love Bang to the mix of that striking group of talent. Bottom line: major find for not only Jellyfish and Crowded House fans, but fans of well-written post-Beatle commercial pop.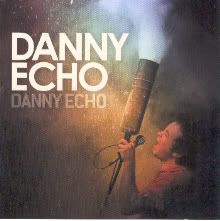 Danny Echo - DANNY ECHO
Danny Echo used to be called The Rye Catchers, a favorite here at Not Lame. It is flat out guitar driven rock that is not afraid to crank it up and rock it up without losing sight of melody and hooks. Lead-off track "Out Of Style" is anything but pulling off a edgier Jellyfish sound, while "Tomorrow Today" perfects the poppiest side of Oasis - better than the band has been able to pull off for years.
"Wonderfully addictive and thoroughly enjoyable, this is all that power-pop rock and roll is meant to be. Highly recommended."
- The Power Of Pop