Band to watch: TINTED WINDOWS!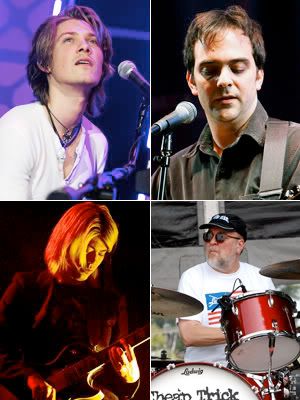 Bruce brought to my attention the formation of the new supergroup Tinted Windows--check out this line-up: Smashing Pumpkins' James Iha, Hanson's Taylor Hanson, Cheap Trick's Bun E. Carlos and Fountains of Wayne's Adam Schlesinger. I think that this is a crazily awesome, odd group of musicians, but, look at that pedigree.
The one guy in there that I think that most people will have a problem with is Taylor Hanson. While the mainstream public only knows Hanson for their one huge hit--the infectiously catchy "Mmm-Bop", their albums are actually just as strong, mixing a bubblegum sound with sharp poppy hooks and great songwriting. I highly recommend at least picking up the budget compilation
20TH CENTURY MASTERS - THE MILLENNIUM COLLECTION: THE BEST OF HANSON
, which can be bought used from Amazon, for, like, $4.00.
While I thought that most music blogs would be pretty excited by this news, check out what the snarky hipsters at
Prefix
had to say:
Tinted Windows: The Least "Super" Supergroup of All Time



At the Billboard showcase on March 20 at SXSW, the world will be, um, treated to a performance of a new supergroup called Tinted Windows...

The group has apparently already recorded an album, and are looking for a label. I'm guessing the material will mostly be power-pop, but it might (likely) end up being classified as "awful."
I know that the writer is trying to be "clever", but what is it in these guy's DNA that automatically makes them hate everything? Are their lives such joyless, fruitless searches for the "cool Grail" that makes them so utterly bitter? Give the music a chance before you urinate on it, Prefix! Geez...
Regardless, us here at NOT LAME Central are pretty dang excited!