Blogs That POP: Accelerated Decrepitude weighs in on the death of Lux Interior!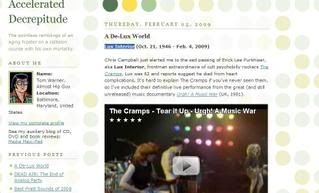 I am not the biggest fan of the Cramps, but I now that Bruce is and many Not Lamers are. Still, it's hard not to feel sad about the death of punk legend Lux Interior. No one has done a better, more exhaustive tribute than Tom Warner over at Accelerated Decrepitude. Not only does he post some a great vid, a nice historical primer and some personal rememberances, he also lets us in on this little nugget that should raise the eyebrows of a few pop-fans:

"In 1977, fellow cult star Alex Chilton (who produced their early recordings) christened The Cramps "the greatest rock'n'roll group in the world."
Did you guys know that? I didn't know that.
To read the full post, click here
. And, while you're there, leave a comment!