BOOKGASM reviews SHAKE SOME ACTION!!!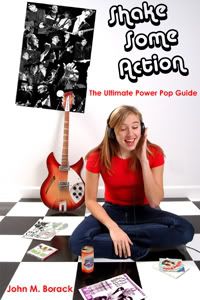 From Bookgasm.com:
"Short of having Alex Chilton come over and bring his record collection, I can think of no better introduction to the sweet musical world of power pop than John M. Borack's
SHAKE SOME ACTION: THE ULTIMATE POWER POP GUIDE
, from Colorado's Not Lame Recording Company, an indie purveyor of this underrated genre.
"Power pop" refers to highly melodic rock music: hook-driven and guitar-heavy. Examples include pioneers like Cheap Trick and Smithereens to relative newcomers like Fountains of Wayne and Old 97's. But as you can imagine for something with about four decades' worth of history, there's a helluva lot of in-between to cover.

After an introduction from Robbie Rist (Oliver from
THE BRADY BUNCH
, natch), Borack delves into power pop's history, making his way through such acts as The Raspberries, Dwight Tilley, The Hollies and The Knack. And then there the lists – lots and lots of lists, to the point where even the major lists have their own sidebar lists – some from guest artists and writers: the 200 best albums, plus compilations and tributes, the 100 best songs, the 30 best American singles, the 10 overlooked 45s from the UK, the 30 landmark "golden age" platters, and so on.
The list-adverse may break out in hives, but the music nerd in me loves lists. Even if they're so highly subjective that they'll never match up to your own personal tastes, they're still fun to read and a great way to school yourself in groups you may have missed.Rounding out the book is a look of power pop labels and magazines, and the entire tome – shaped square like a record album, coolly enough – is generously illustrated with photographs and easy-to-read large type, all perfect for thumbing through while sitting in front of the hi-fi, earphones creating a vacuum on your skull.If there's a complaint, it's that the book sometimes is self-congratulatory, with Not Lame bands making prominent marks on the lists, and the Not Lame label tagged as one of the best record companies for the stuff. Making me not care so much: the free CD pasted into the back cover, with 24 tracks of power-pop greatness (and semi-greatness) – all new, rare or previously unreleased. Among the artists awaiting your aural perusal are Peter Case, Tommy Keene and, Chris von Sneidern. They may not be the household names of your Matthew Sweet, New Pornographers or The All-American Rejects, but give them a try. Chances are, if you're interested in power pop at all, you won't need the urging." –Rod Lott
Source:
http://www.bookgasm.com/reviews/entertainment/shake-some-action-the-ultimate-power-pop-guide/