Louis's Friday Pick: THE OSMONDS-CRAZY HORSES/THE PLAN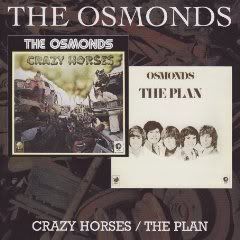 You know, I really feel like I was born in the wrong era. I was born in 1978 and, this year, will turn 30. But, if you ask me, I wish I had been born about fifteen years earlier. Then, I could have known of the pure musical bliss that is the Osmonds. If right now was say, 1976, I honestly believe that I would, without shame, have the Osmonds' masterpiece CRAZY HORSES in my record collection, right next to the Ramones and KISS. Yes, CRAZY HORSES rocks. Like, REALLY rocks.
Released in 1972, this album, along with its 1973 follow-up THE PLAN, are pretty much the sound of the Osmonds, the most wholesome, clean-cut band of all-time, rebelling. Yep, they're telling pops "Screw off dad, I wanna rock!" and turning their amps up all the way, even getting into a guttural growl here and there. Check out this live performance of the title track:
Here's THE PLAN's "Let Me In" --true POP perfection-- from TOP OF THE POPS:
Go to Hell, Led Zeppelin! CRAZY HORSES rocks so hard it even made the list in Chuck Eddy's Stairway to Hell: The 500 Best Heavy Metal Albums at number #66. No joke! But, I know that the "hard" stuff scares some of you guys off, so, let not your heart be troubled: beautifully arranged ballads such as "Let Me In" and insane psychedelic romps like "War in Heaven" mingle wonderfully together to create an album that's better than SGT. PEPPER. There, I said it.
You need this album NOW!!! Click here to order it from the NOT LAME website.